S1E20 - Interview with a Unicorn
Getting to know Mew better
2 years ago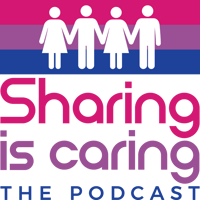 In this episode we interview Mew and get to know her a bit better and learn about the lifestyle from the perspective of a unicorn.
Welcome to Episode 20 of Sharing is Caring the podcast!
We are Kiwi and Cherie, a New Zealand and French couple living in London. This podcast is about our journey into sex positivity and ethical non-monogamy.
Mew is a good friend who is also a unicorn. In this episode we speak with her and hear about the lifestyle from her perspective. Mew answers questions about what the positives? what have been great experiences? As well as discussing some of the difficulties and downsides of being a unicorn.
We have arranged a special offer for our listeners. If you sign up for SpicyMatch using the referral code sharingiscaring, you will get three months free premium membership!
Feel free to get in touch or to submit a listener question for future episodes.
SpicyMatch referral for three months free premium membership: https://www.spicymatch.com/?ic=sharingiscaring
Contact us:
Music:
Intro/outro: "Once have I" by Boogie Belgique, Licensed under Creative Commons (CC BY-NC-ND 3.0)
Keep being amazing and sexy x
Support Sharing is Caring by donating to their Tip Jar: https://tips.pinecast.com/jar/sharing-is-caring
Find out more at http://sharingiscaringpodcast.com